P7 Mr Anderson
Welcome to Primary 7!
In Primary 7 our teacher is Mr Anderson.
In addition to Literacy and Numeracy the themes we explore are:
"We're At War"
"Hunger"
"Getting It Right"
"Flight"
On Monday mornings we meet at Greenvale Leisure Centre for our weekly swimming lessons (8.50am). This happens for all three terms! Each day we also go for a fifteen minute walk, jog or run. Please ensure your child has a suitable coat for the weather.
Our School Day
8.30 - 8.50am - Children are supervised on school playground or in inclement weather, the assembly hall
8.50 - 9.00am Children go to their classroom and get ready for school day
9.00am - Lessons begin
10.32am - 10.45am - Break
12.20pm - 1.00 pm Lunch break
3.00pm - Home time Monday - Thursday
2.00pm - Home time Friday
Timetable Reminders:
Monday - Swimming at Greenvale Leisure Centre 8.50am.
Wednesday - Instrument tuition
Friday - PE
Class Photograph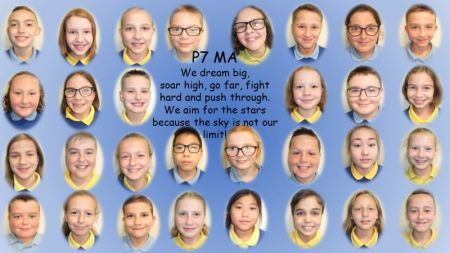 &nsbp;
Magherafelt Primary School, 32 Castledawson Road, Magherafelt, Co Londonderry, BT45 6PA Telephone: 028 79632822